Mirta is a digital showroom that revolutionizes the way fashion brands and retailers sell and buy wholesale. Born in 2019, Mirta simplifies brand discovery for buyers and speeds up traditional wholesale operations, making the buying process a smooth and digital experience. Through technology, Mirta is able to streamline post-order operations, freeing brands from time-consuming tasks. With the Viceversa-Mirta partnership, Mirta is able to extend financing to a large part of the fashion industry.
Today, Mirta connects more than 450 brands with international retailers, with the aim of making local fashion accessible to everyone and bringing the brands' stories to international communities that share the same values and believe in a more ethical fashion industry.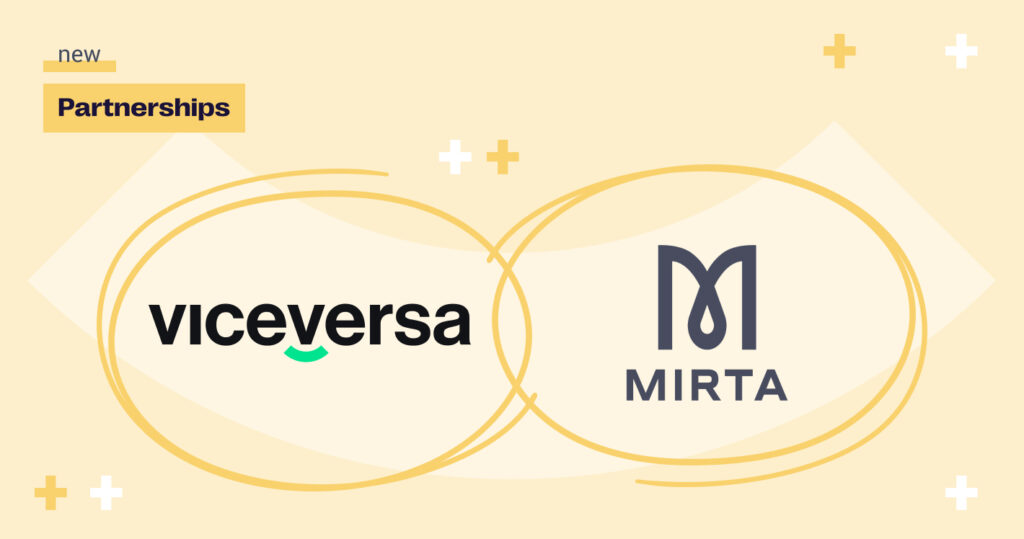 Mirta works with more than 450 fashion brands from all over Italy and connects them with boutiques from 80+ countries. In the next months they are aiming to grow their network by including new European brands and eventually brands from all over the world. Their boutique target and brand partner share the same vision and believe in a more ethical and inclusive fashion industry in which local indie brands will be accessible to everyone.
How does this Viceversa-Mirta partnership work?
With the Viceversa-Mirta partnership, we can boost our marketing activities and offer new opportunities to our brands. Indeed, we are now able to give Mirta brand partners the possibility to utilize Viceversa marketing investment to grow their marketing activities and thus boost sales. This is something we've been wanting to do for a long time and Viceversa is making it possible.

Martina Capriotti, Co-founder
What's the main goal of the partnership?
In the past months, we grew exponentially but because we are a startup we need to always find new ways and approaches to reach new potential customers. Our main goal for the next months is to explore new activities and expand Mirta brand awareness. Viceversa can support us in accelerating the process and increase leads by supporting our financial burdens when investing in new marketing campaigns.

Martina Capriotti, Co-founder
An insider tip for digital businesses?
Always keep a flexible approach to test new things. If they work, keep improving; if they don't, change your strategy until you succeed. Keeping a lean approach in all areas of the business has helped us find the right path for our company, making us grow quickly.

Martina Capriotti, Co-founder
And lastly, what's next for them…
At the moment, we are continuing our partnership with important trade shows like Mipel, an event that combines tradition and innovation and proves that physical and digital can coexist and succeed. We are very excited also to expand our network of brand partners with the aim of reinforcing our offering and the spectrum of fashion categories.

Martina Capriotti, Co-founder
Boost your growth differently with Viceversa and Mirta.
Check out our other partnership news.
Similar stories
We are proud to share stories of our open network of entrepreneurs who have used Viceversa's funding to grow their digital businesses.
Want to save 57 days a year?
2 out of 3 businesses spend about 60 days a year only pitching for and accessing funds*. With Viceversa, you do it in 3.
*Source
Get Funded
Get Insights