Grapefox is a performance marketing agency driving growth for fashion brands. They believe that there is no excellence without hyper-specialization. And the great thing is that they deal exclusively with the performance-related part of marketing (ADV/CRO) and work exclusively with eCommerce in the fashion world. This Viceversa-Grapefox partnership focusses on how they can bring further value to their portfolio.
They work with up to only 12 brands at a time. And they say that their success depends not on the number of customers but on each company grows.
Grapefox aids fashion brands with financial solutions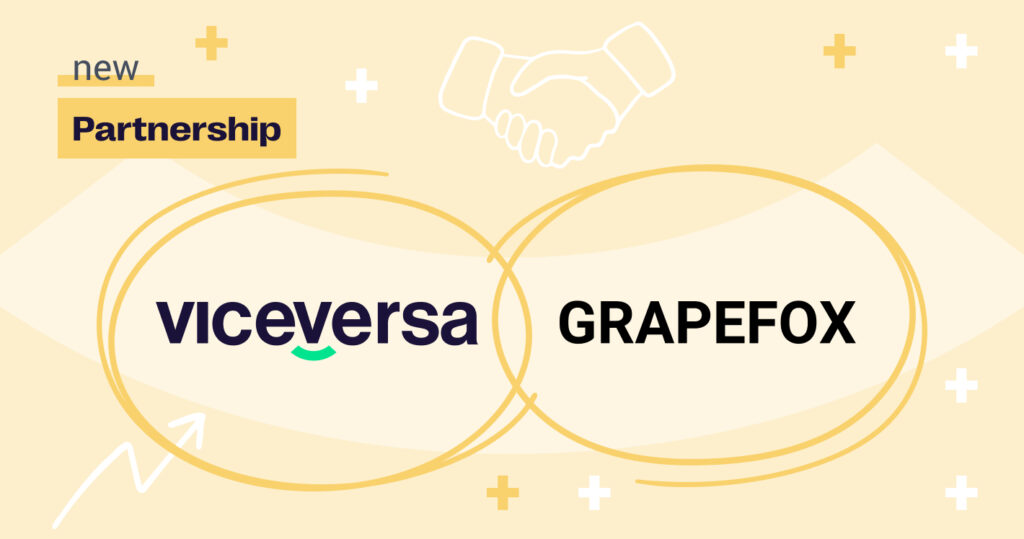 Grapefox wants to help fashion eCommerce grow as efficiently and confidently as possible via paid advertising. But to do this and guarantee the result, Luca Fontani says, "we know very well that we cannot expand beyond a certain size – we never work with more than 12 clients at a time and we choose carefully who we decide to work with."
Their unique expertise cannot be easily found on the market and thanks to their hyper-focus they are able to create and refine their internal strategies and procedures at a much higher speed. Especially compared to those who work across several different industries.
Their clients run either up-and-coming or well-established brands in the fashion industry. They don't usually work with marketplaces – unless their business model, positioning, and margins are really strong. Right now all their clients are from Europe and advertise globally, but they aim to quickly expand our client base in the United States and Canada in the next few years.
How does this Viceversa-Grapefox partnership work?
Considering that they work with a really limited number of clients, it's imperative that each one of them is able to grow as much as possible.
The more they grow, the more we earn. If they get stuck, we end up getting stuck too. So for us it's extremely important to have access to capital that allows us to push our campaigns during periods of high seasonality. If we decide to work with someone it's because we truly believe in them – and to make a big impact, we need as much capital as possible.

Luca Fontani, CEO
What's the main goal of the Viceversa-Grapefox partnership for you?
This Viceversa-Grapefox partnership allows us not only to access capital but to access it quickly. Having a direct connection with Viceversa gives our clients an additional tool they can use when they need it the most – without waiting for entire weeks/months.

For us, it is a sweet addition to our services that makes complete sense.

Luca Fontani, CEO
An insider tip for digital businesses?
When done right, paid online advertising can truly boost the growth of a brand. But at the same time it's extremely important to remember that organic traffic and client retention are even more crucial – and a lot of brands tend to forget about those.

'Can I grow my brand without spending money to buy traffic?' is a question many people should ask themselves. For those who answer 'No', the future will always be uncertain.

Luca Fontani, CEO
And lastly, what's next for them…
With existing projects operating smoothly with now-minimal intervention, they are taking the time to explore other ways they can add value for their clients.
What brings me joy and peace of mind is seeing the agency growing at a good pace – not too fast, not too slow – and our clients happy to partner with us in the long run.

Luca Fontani
This is what is truly exciting: the future and all the possibilities ahead, both for Grapefox and for the people who decide to believe in what we do.
Boost your growth differently with Viceversa and Grapefox.
Check out our other partnership news.
Similar stories
We are proud to share stories of our open network of entrepreneurs who have used Viceversa's funding to grow their digital businesses.
Want to save 57 days a year?
2 out of 3 businesses spend about 60 days a year only pitching for and accessing funds*. With Viceversa, you do it in 3.
*Source
Get Funded
Get Insights