Are you ready to party with a purpose? Techchill's Network & Chill event promises an unforgettable night of networking, music, and fun, all while fostering valuable connections within the tech industry. Whether you're a seasoned entrepreneur, a budding startup founder, or a curious tech enthusiast, this event is designed to bring you together with like-minded professionals and experts.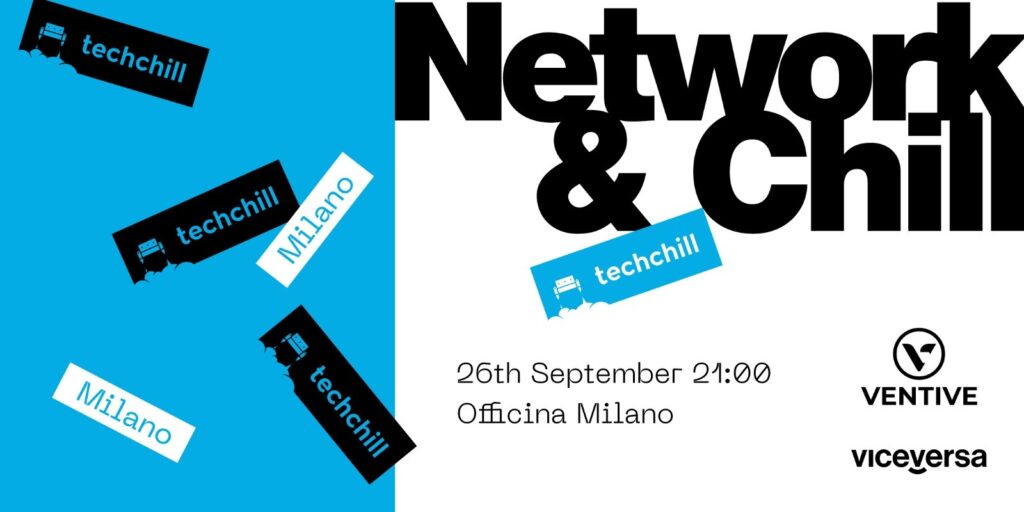 Connecting Tech Innovators and Business Minds
Attendees at Viceversa's Network & Chill event won't just leave with fond memories; they'll also gain valuable insights into strategies for business growth. Whether you're looking to scale your startup or enhance your business acumen, this event offers access to expertise to help you reach your goals. It's an invaluable opportunity to learn from industry leaders and forward-thinking financiers.
When: Tuesday, Sep 26, 2023
Where: Officina, Milano
Time: 9 pm • 1 am
Don't miss out on this incredible opportunity to connect, learn, and grow within the tech industry. Join us at Techchill's "Network & Chill" and be part of a global community of tech enthusiasts, entrepreneurs, and innovators. Register for free today and secure your ticket to an unforgettable night of networking and celebration.
About the hosts
Ventive is an investment and consultancy company for pre-seed and seed startups. Their vision is to bring innovation to the Italian ecosystem allowing startups to join a complete ecosystem about skills, know-how, venture capital, strategic decisions, and corporate finance advisory.
Viceversa is a leading European fintech company that aims to become the financial and operational partner for the next generation of digital businesses. We built a powerful growth platform that boosts businesses at the pace they want with equity-free investments and data-driven insights, to help them make better decisions.
Similar stories
We are proud to share stories of our open network of entrepreneurs who have used Viceversa's funding to grow their digital businesses.
Want to save 57 days a year?
2 out of 3 businesses spend about 60 days a year only pitching for and accessing funds*. With Viceversa, you do it in 3.
*Source
Get Funded
Get Insights