Tone of voice is the way in which a brand communicates with its audience. It encompasses the language, style, and personality of a company, and is an essential component of its overall branding strategy. At Viceversa, the tone of voice is crucial in creating a consistent brand that resonates with our users and target audience. In the fast-paced world of fintech, where competition is intense, a unique and distinct tone of voice can make a significant difference in setting a company apart from its rivals.
Why do we need a Viceversa Tone of Voice?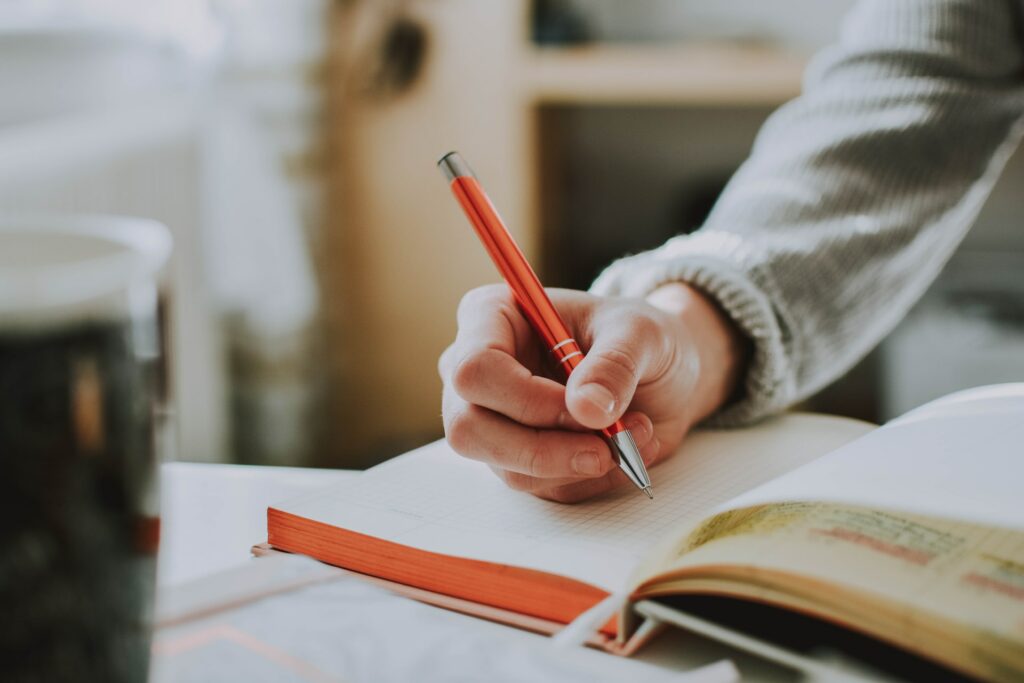 The Viceversa tone of voice is characterized by a conversational and approachable style that balances humor with professionalism and partnership. This tone of voice is particularly effective for companies that are trying to appeal to a younger, tech-savvy audience who value authenticity and transparency in their financial dealings. By adopting this tone of voice, Viceversa intends to be more human and build stronger connections within their community.
For Viceversa
A tone of voice is critical in shaping the brand image and establishing Viceversa's values. It helps us understand the needs of our users and create a consistent brand voice across all communication channels, including our website, platform, app, terms and conditions, privacy policy, emails, events, and much much more. A tone of voice serves as a guideline for not just regular communication, but also for complex, technical, and sensitive concepts. With a clear tone of voice, we can decentralize content creation and ensure that all our communication reflects our brand values and personality.
For users of Viceversa
…a tone of voice is equally important. It establishes the brand perception and personality, building their expectations of what a fintech company should be and how we fit into that idea. A unique and consistent tone of voice differentiates us from other players and makes us more relatable and trustworthy. It also helps to create a deeper connection with our users, who appreciate the authenticity and transparency that a distinct tone of voice provides.
What does the Viceversa tone of voice include?
This is our house style guide. It helps us write clear and consistent content across teams and channels for our users. This is a WIP project meant to serve as a guideline; it is not a sacred text. It includes:
Who are our users & what are our goals: What do we want to achieve through our content and how can we do so?
Our voice: How our values are communicated through our voice
Grammar: Specific grammar rules we follow that ensures that our content is consistent
Tone broken down on the basis of formats or channels we use
WIP word lists and architectures
Our users 👥
…are mostly people from digital companies that are looking for ways to grow their business. Some of their characteristics include:
Tech-First: Smart digital companies that are domain experts. They want to be educated on newer technologies.
Ambitious: C-Levels & founders who want to take their business to the next level. They are entrepreneurial, innovative & purpose-driven.
Curious: They want to have a better understanding of their own marketing & business performance. They are open to opportunities.
Strategic: They are looking for alternative funding to either free up capital or increase marketing spend. However, it is not a priority for them, and need to be convinced at times.
Wary: They don't completely trust technology that uses their data and need to be shown the value of a partnership. At the moment, they get easily frustrated with bad UX.
Viceversa tone of voice
Viceversa is building the growth platform for the next generation of business. It  aims to become the financial and operational partner for the next generation of digital businesses. We built a powerful growth platform that boosts businesses at the pace they want with equity-free investments and data-driven insights, to help them make better decisions. We aim to:
1. Guide & educate users
Help users understand our platform & products
Give users all tools and info they need to be efficient
Encourage users to achieve their goals through language
At Viceversa, our tone of voice is about guiding and educating our users on the financial services we offer. We value the importance of showing the value of our products and services through guidance rather than pushing a hard sell. Our instructional and informational language encourages efficiency and empowers users to make informed decisions about their finances. By providing clear and concise guidance, we aim to make financial management accessible and understandable for everyone, regardless of their level of financial literacy.

How do we guide and educate users?
Use short and simple sentences
Use bullet points when explaining steps
Use subheadings to organise your writing
Our humour is witty, dry and punny. It is not ha-ha funny, childish, inappropriate, or rude
We are often technical, but avoid jargon
Interlink 1-2 posts (internal and external) on our content to provide context, without overwhelming the user
2. Use positive language
Clear, consistent language that focuses on the positive
Any negative outcome must provide solutions
Focus on the happy and good ✨
Our tone of voice is designed to convey a positive attitude towards our users, and our language is never informal, but rather that of an equal partner. We speak with professionalism, yet our approachable tone is intended to create a friendly and welcoming environment. Our emotions range from positive to happy, and we strive to maintain an upbeat and enthusiastic tone in all our communications. We understand that managing finances can be daunting, and we want our users to feel empowered and confident in their ability to navigate the world of finance.

How to be positive?
Use the language of a Partner. We are not formal or informal. We are professional, friendly and warm
Use emojis to express a sprinkle of joy ✨. Do not use it excessively (like this 🤪🥳🤩🎉🎊)
When giving negative information, give an alternative solution
Be open to feedback (We are learning from others constantly)
Use more realistic words instead of superlatives like 'Best', 'Biggest', 'Grandest', 'Cheapest'
Avoid being insincere when being enthusiastic
Avoid slang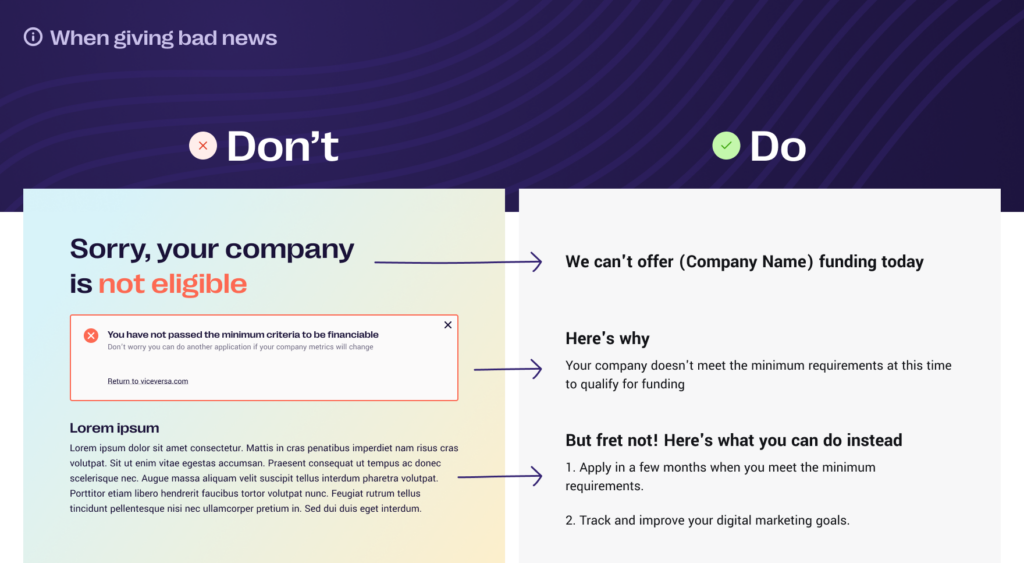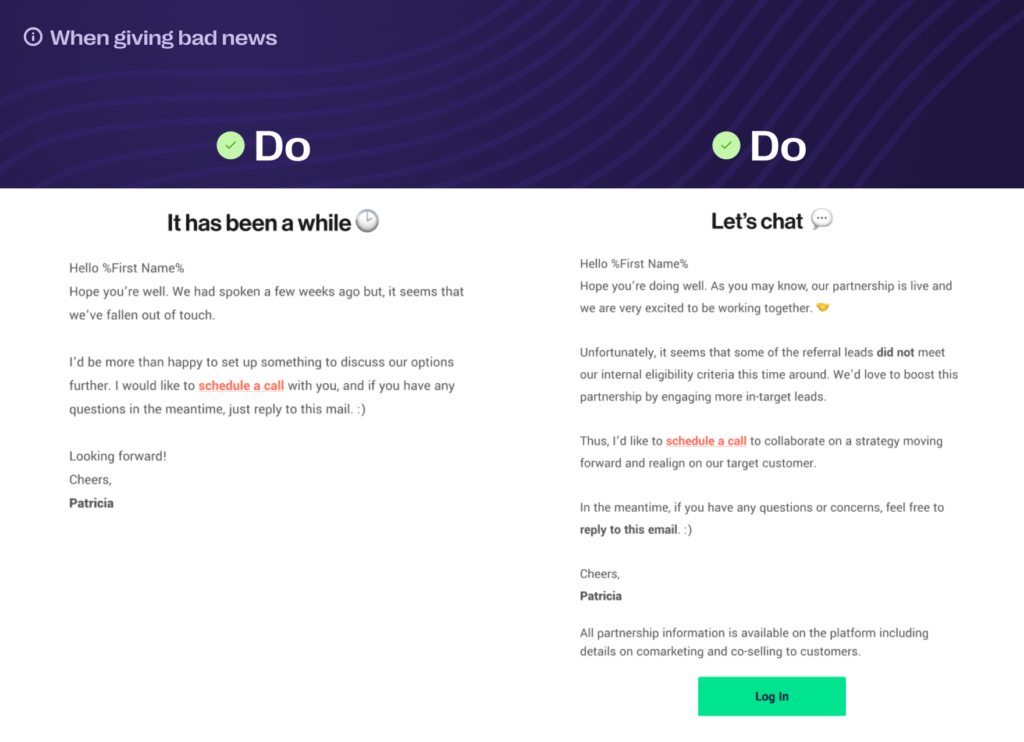 3. Be open and transparent
We want to build trust and reliability
Our language is clear, direct and actionable
As a fintech, we are accessible to all kinds of users and companies
At Viceversa, we believe in being open and transparent in all our communications. Our tone of voice reflects this commitment to honesty and accountability. We use active voice to take responsibility for our actions and decisions, rather than deflecting blame onto others. Our language is inclusive, and we strive to make everyone feel welcome and valued. We provide data and proof to back up any claims we make, ensuring our users access accurate and reliable information.

How to be open and transparent?
Use active voice to take responsibility and build trust (except, when placing blame use passive voice)
Always cite sources or show research when recommending, avoid overselling your value
Interlink posts (internal and external) to provide context
Use inclusive language (Folks, not Guys; Their, not his/her). When in doubt, use the Block-List sheet.
Avoid colloquial expressions such as wanna, gonna, ain't, dolla-dolla bills
Don't use emojis to replace text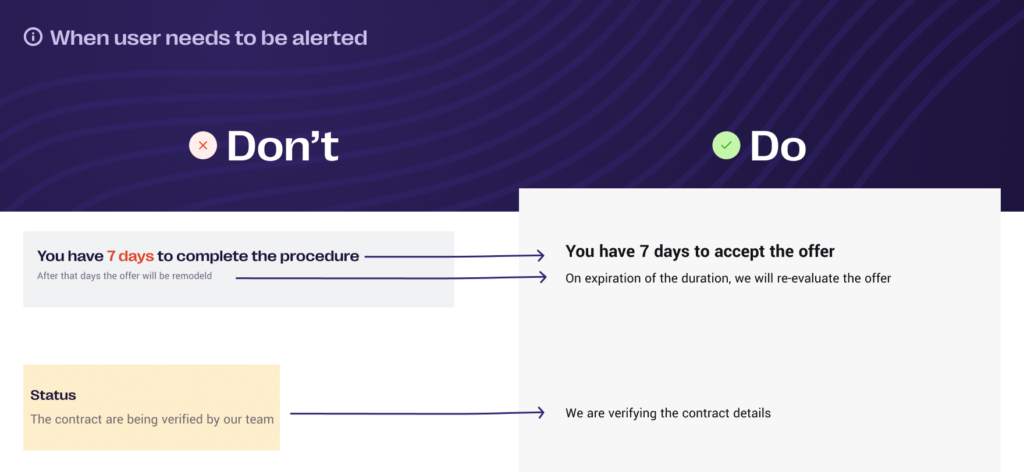 4. Boost growth for all
We direct users towards growing & completing their goals
Live the values of entrepreneurship in our words: Fast, flexible and data-driven
At Viceversa, our tone of voice is designed to boost growth for all. We understand that growth requires constant adaptation and improvement, which is why we ask for frequent feedback from our users. By listening to our users' needs and concerns, we can iterate our solutions and create a better experience for everyone. Our language has a sense of urgency, reflecting the fast-paced world of fintech, but it is also adaptable and reasonable, backed by research and data.

Image do dont
Grammar
These grammatical rules are the sacred rules that we have to abide by to ensure consistency.
1. General rules
Use American English and AP Style Book (see Style Guide)
Use active voice (except, when placing blame or focussing on action, use passive voice)
Use contractions to keep tone friendly. Eg: Can't, don't, won't, should've, we're
Don't use title case (see Headings)
Use full form with abbreviation in a bracket. Then use abbreviation only (unless it is an SEO keyword)
Use bold to highlight content. Use italics only for names of event/campaign. Underline only for links.
2. Style guide
Writing: AP style book
The journalistic standard and writing rules used across the industry (Quick Guide, Reference Link, Reference Link)
Spelling: Merriam-Webster
For common queries on American-style spellings (Online Dictionary)
Editing: Grammarly or Hemingway
To ensure content is error free and readable (Grammarly App, Hemingway App)
3. Headings & sub-headings
Write titles, headings and subheadings as regular sentences (sentence case), following the rules of capitalization (proper nouns). We don't use Title Case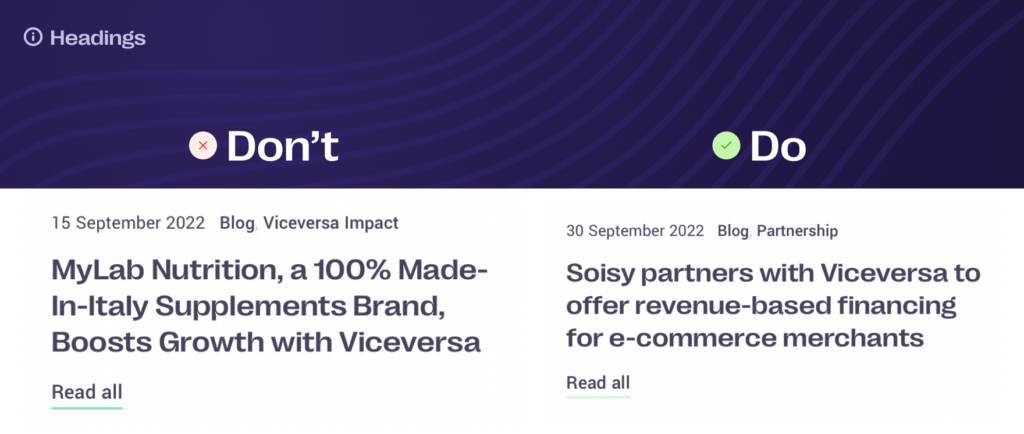 4. Exceptions
Use the oxford comma (Eg: He bought apples, oranges, and pineapples.)
Use the exclamation point (!) sparingly & only one at a time. Too much can seem overexcited!!!
Use passive voice when the action is more important. (Eg: Your account was reported as inactive)
Write emails and URLs in all lowercase letters
Don't use double negatives
Use ampersand (&) in titles
5. Localisation & translations
General
Similar to the English Voice, we use a natural speaking-voice of a partner. We don't use formal language: Vedere instead of Fare riferimento a
Language should feel that it was originally written in Italian/ German, not a word-for-word translation from English
We will avoid idioms and colloquialisms in English to ensure translations are easier
Italian
Numbering system: 100.000 EUR instead of 1,00,000 EUR; 1,5 hours instead of 1.5 hours
Italinglish is acceptable, if the audience understands the term. Eg: 'ASAP' instead of 'prima possibile'; 'checklist' instead of 'lista di controllo'
German
Informal German, but without exception all verbs and nouns are capitalised
A defined language with long sentences. Avoid shortening the words, this could change the meaning
Chosen font should also support 'ß', or 'sz' – a sharp s
Content tone
The brand's tone is more subtle, and they're subtle when translated to writing, too. Signs of tone in writing can be translated into word choice, punctuation, and even emojis.
Website & platform
When working with content on the Viceversa website and platform, we ensure:
Tone: Standard professional, warm and friendly with clear, instructional communication
Alt Text should be added on all images. The more descriptive, the better it is
Buttons should follow the format 'I want to (Button text)'
Buttons, Headers, Navigation links use title case
Blog & education
The Viceversa blog is a curation of fintech news and trends. As a blog:
Tone: On the warmer side, informative, clear and crisp communication with short, simple sentences
Use images, gifs, graphs and visual media
Add relevant links to external and internal content
Use Yoast/ Rank Math to check for SEO, but do not stuff keywords
No complex jargon or concepts, unless the user is already aware or has been educated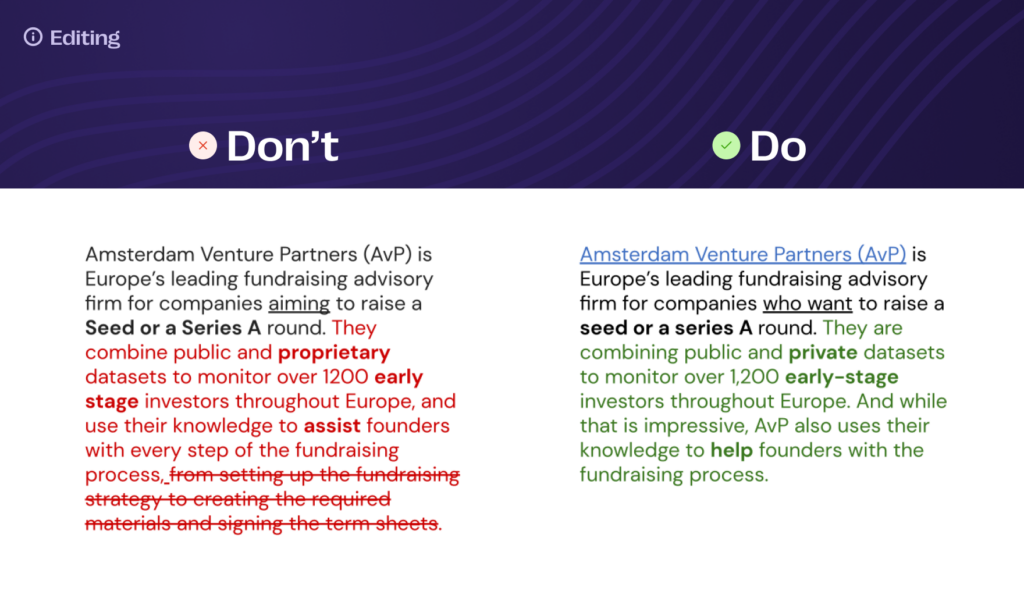 Social media, events & emails
Tone: Casual, happy, witty & providing good news, with a generous use of emojis
Short & sweet does it best. However, channel best practices apply when it comes to the length of captions and other content aspects
Add relevant links and CTAs. Track & test links.
Use hashtags and tags sparingly & when relevant
Don't try too hard to be cool. Your community speaks for you.
Official & legal documents
Tone: Professional but clear, must be used to explain technical concepts. Here, accuracy is crucial without feeling impersonal
Use You and Us as much as possible to humanise
Focus on using natural language not legalese in T&C, disclaimers, contracts, etc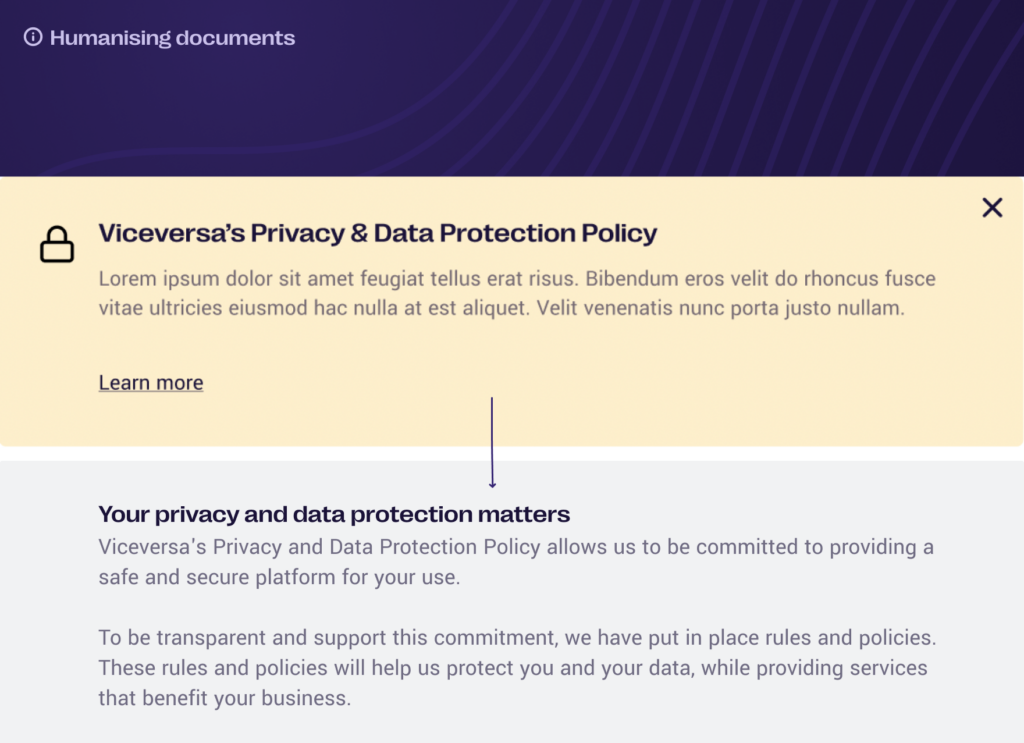 Work in Progress
We also have a couple of internal projects running on centralising content. These documents are currently being developed and can be used when you need to look up some query regarding terminology and website architecture. Please contact Viceversa's Content Designer for the relevant links.
Taxonomy and terminology: As we build our platform and products, these word lists are being populated over time for marketing, financial and brand teams to create a shared lexicon of understanding
Content audit and architecture: The pages and features will change over time as we build our brand. There also exists current documentation and strategy regarding how it all came about
Similar stories
We are proud to share stories of our open network of entrepreneurs who have used Viceversa's funding to grow their digital businesses.
Want to save 57 days a year?
2 out of 3 businesses spend about 60 days a year only pitching for and accessing funds*. With Viceversa, you do it in 3.
*Source
Get Funded
Get Insights